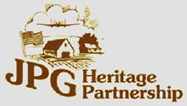 The JPG Heritage Partnership is a made up of a group of people who want to make sure that future generations do not forget the sacrifices that the pioneers and early employees made in the establishment of Jefferson Proving Ground. The Partnership is a 501-C-3 non profit organization that operates as a committe under the umbrella of the Historic Hoosier Hills R & C from Versailles. In addition to printing many books on JPG, the group has had annual seminars of history and established a permanant exhibit at the Jefferson County Historical Society. In 2013 the Partnership sponsored an audio / video display at the Eugene and Marilyn Glick Historical Center, Indianapolis.
---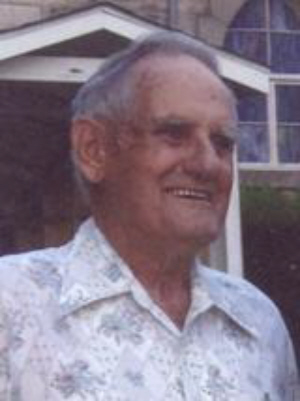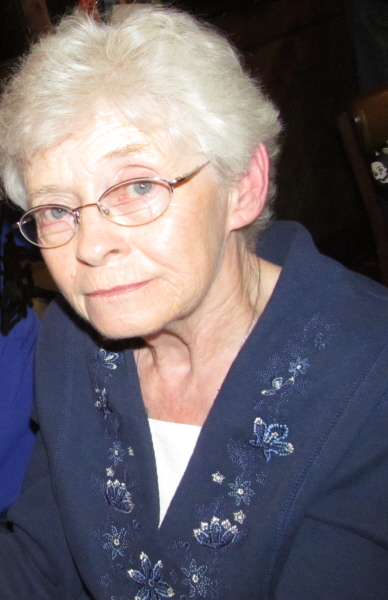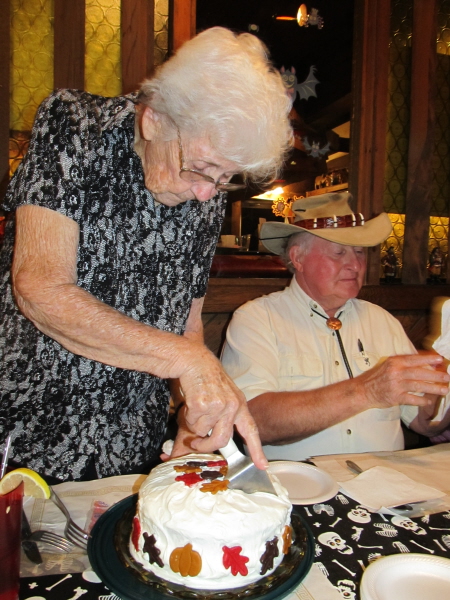 ---
Bob Irwin,(deceased), the Chauffer, and Norma Lou Irwin, President, were at the center of the formation of the Heritage Partnership in 1996. Mary Harsin and her husband Leroy Harsin (deceased) are also charter members of the Partnership. Mary is carving Carl Busch a piece of cake celebrating her 95th birthday at the monthly meeting at "Bonaparte's Retreat restaurant, Napolean, Indiana.

Robert J. Irwin was born in Scipio, the son of Ray B. and Vera (Tooley) Irwin. He was raised in the Scipio community and lived in Bartholomew County. He retired in 1984 as a supervisor with Hamilton-Cosco after 32 years of service. He was a veteran of the US Army, having served with the 45th Division in Korea. He married Norma Lou Adam at Bear Creek Baptist Church, Oct 6, 1957. He and Norma Lou were charter members of the JPG Heritage Partnership.
Norma Lou Adam was born on land that became Thomson's "Old Timbers". Her father was Willard Adam. Her mother was Verda Surber. They went to Versailles to get married on February 6, 1924. On June 13, 1929 Norma Lou was born.When Norma Lou was 6 years old, Mr. Alexander Thomson called on her dad and made an offer on his farm. In 1937 the Adam family moved closer to "Old Timbers" where Mr. Adam was paid a monthly salary. This is where Norma Lou began her life long love of the "Old Timbers". She still loves to go visit. Robert passed away May 8, 2013, but Norma Lou is still the president of the JPG Heritage Partnership.
Carl Busch and his family moved away from the proving ground when he was only 5 years old. His Great Grandfather John Busch and wife and first 4 children were born in Prussia. The children's names were Hannah, Elizabeth, John and Ann. They came to this country on Feb 28, 1849 to Ripley County. John Purchased 120 acres of land in Jefferson County just north of Big Creek and south of Marble Corner. The Farm bordered the Jefferson Ripley County lines. The farm stayed in the Busch family until 1941 when Carl and his family had to leave. Carl's parents, Bernard and Dorothy Busch were married by Father Hunger and were members of St. Magdalene Catholic Church.
---
Preview a video clip of Carl Busch when he was visiting his home place on the proving ground. Note:These are huge files, so they take about 5 minutes to buffer in. The second time you play them they will go straight thru. If the screen goes black just move the curser.
Carl Busch talking about a rooster that attacked him (22.4MB - AVI)
Continued: Carl Busch talking about a rooster that attacked him (14.8MB - AVI)

---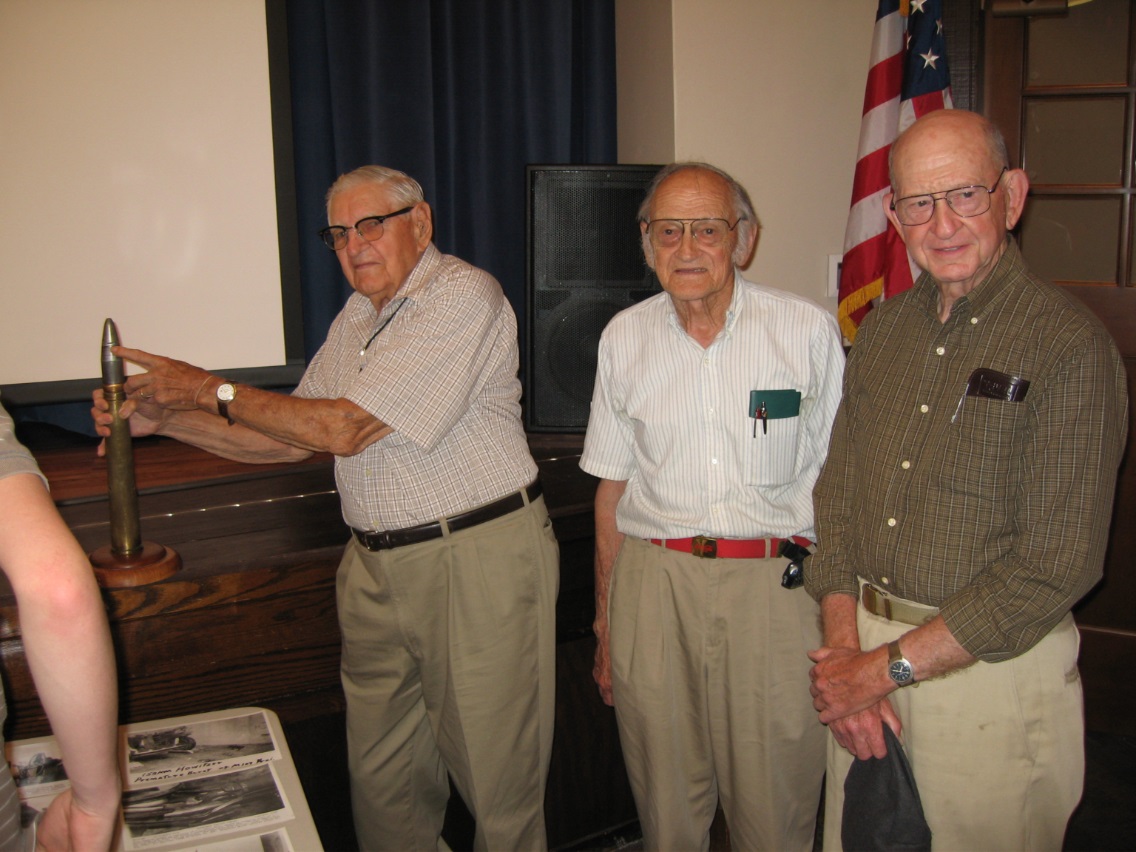 Left to right: in 2007 at the Lydia Middleton Elementary School, Leroy Harsin, Louis Munier, and George Bayless, gave talks about growing up on JPG to Mrs. Pam Yancey Zehren's fourth grade history class.
Leroy Harsin came to Big Creek in 1922 in what used to be area 53 in the JPG. He was married to Mary Rae Harsin (Click on the button Mary Harsin to read her interview). They had to move out of the Proving Ground. Leroy came to work at JPG as a test director in 1952. He stayed until 1958 when the proving ground went on standby. He came back to work in 1962 when the Vietnam war began. He worked for the proving ground until 1978. He and Mary, charter members of the JPG Heritage Partnership, lived out by Chelsea until he passed away in October 2009.
Louis Munier was released from the US Army on a medical discharge and went to work in Artillery Repair in bldg 227. He had been drafted into the Army on April 14, 1941. He was drafted for a year's training, but when Pearl Harbor was attacked on Dec. 7th 1941, Louis said no one got out of the Army. Louis had been born on Big Creek, left when he was 12 years old. His father died and when his mother remarried, the family left the proving ground area. Louis died at the age of 94 in March of 2013 but, he always wanted to go back to Big Creek and the Proving Ground. While in the Army on April 18, 1942, Louis married Mary Ellen Jones. He dreamed about her every night until his death.
George Bayless was the son of George W. and Kathryn Bayless. George was 11 years old when he learned that the Army was going to take his dad's farm. Georges family came from the Bayless, Elliot, and Pattons, original purchasers of government lands inside the proving groud. George was 12 years old when he attended the last day of class at Oakdale school. George was in the 6th grade when school ended. The family loaded up in a 1926 Chevrolet and looked for farms in or around Greensburg, Indiana. George graduated from college in 1951. He wrote in a letter to Pam Zehren that his family did not recover what they lost in 1941 until he graduated from college.
---
Past Activities
Home
Shawnee
Pioneer
World War II
Korea
Vietnam
Gulf War
Mary Harsin
Christmas Party 2013
TOP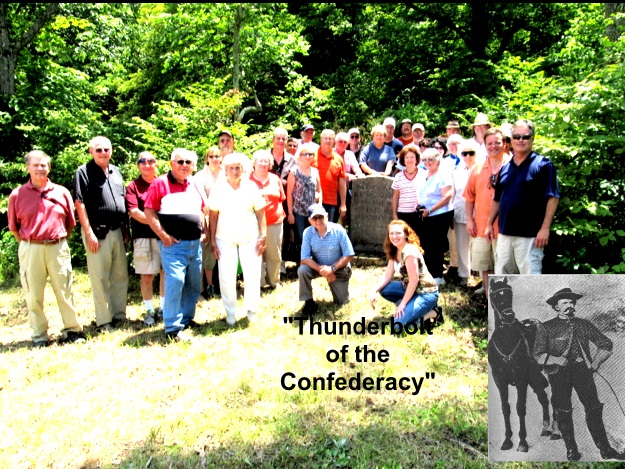 General John Hunt Morgan's
Troops Passed Here
Going East Sunday
July 12, 1863
Jefferson County Historical Society
HHH sponsored John Hunt Morgan Tour on June 14, 2013. Gary Stegner, Mike Moore on the left, Ken Knouf in orange shirt left of monument, Melvin Meisberger and Amy Meisberger Fischmer kneeling.
---
---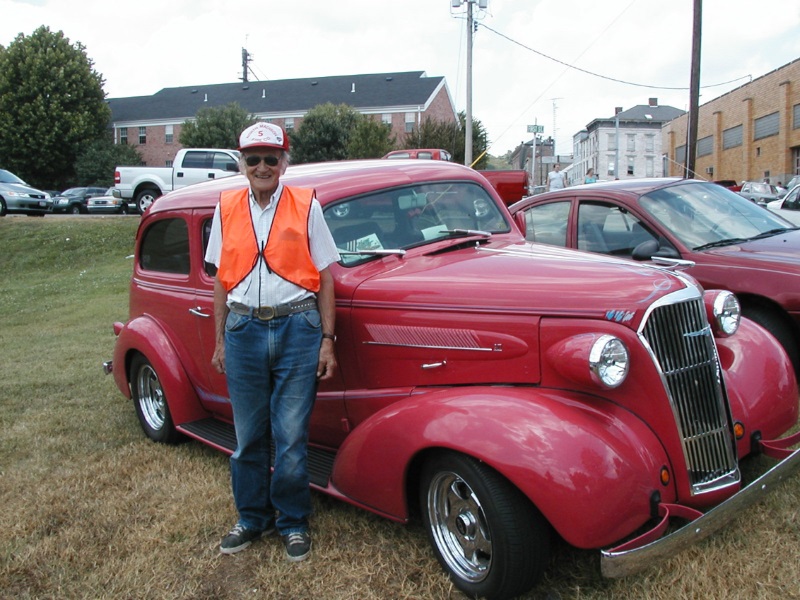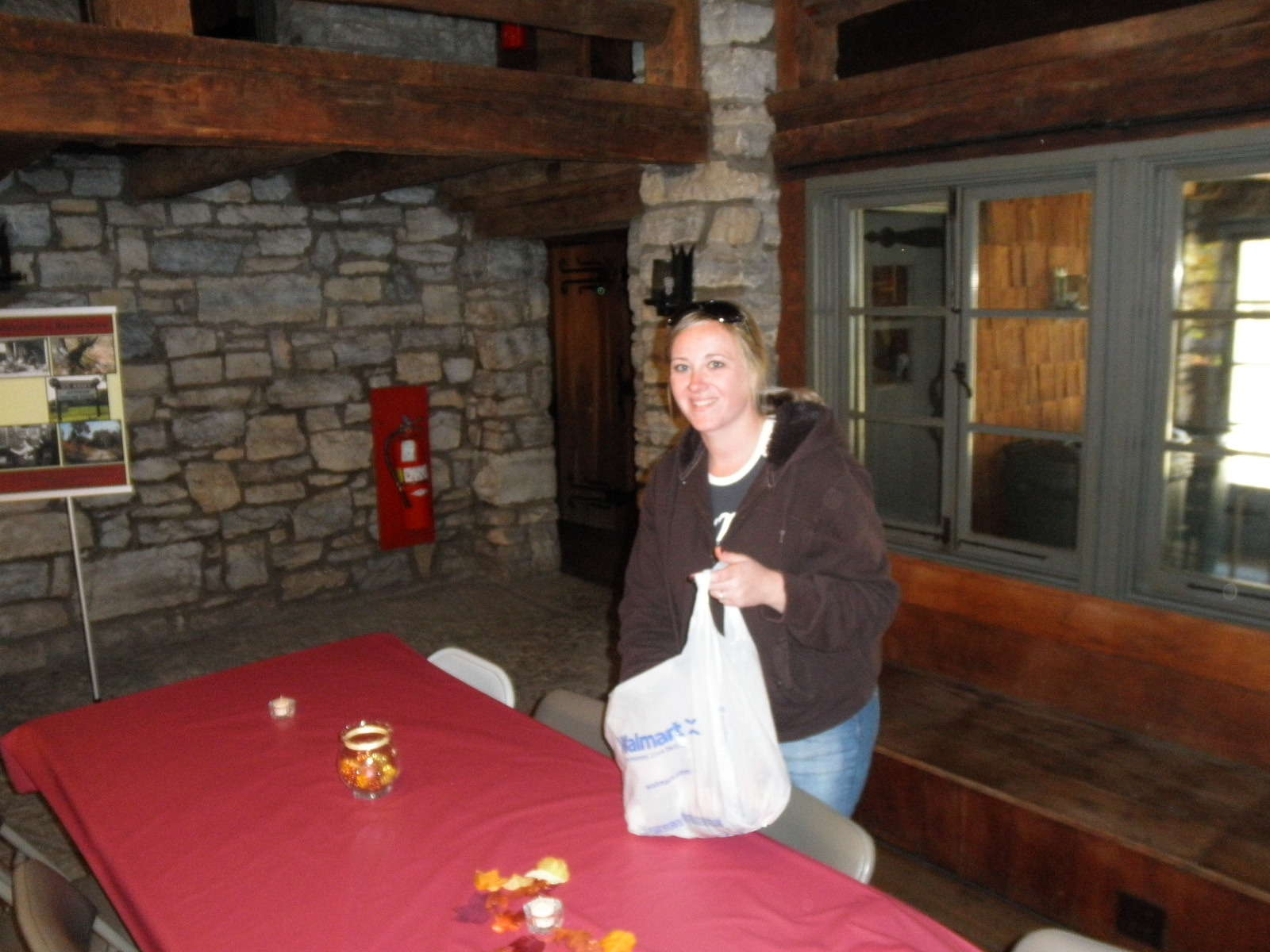 1. Louis Munier, parking cars for the "Madison Regatta" on the bank of the Ohio River to fund the JPG Heritage Partnership group projects.
2. The "Partnership" and HHH sponsored a dinner for the Rising Sun Community Foundation at Old Timbers Lodge. The dinner was to celebrate the printing of the book "Reminiscences and Reflections" funded by the community foundation.
---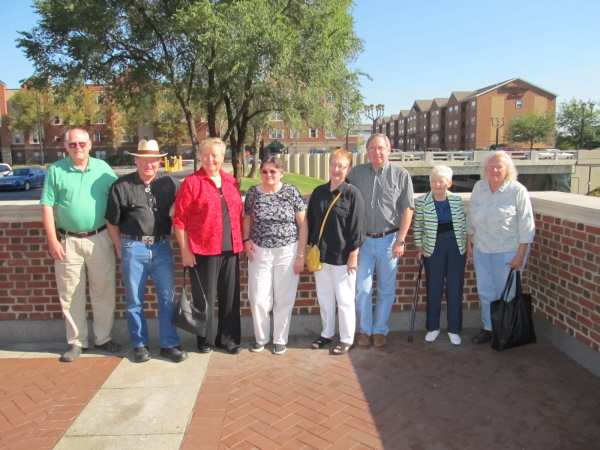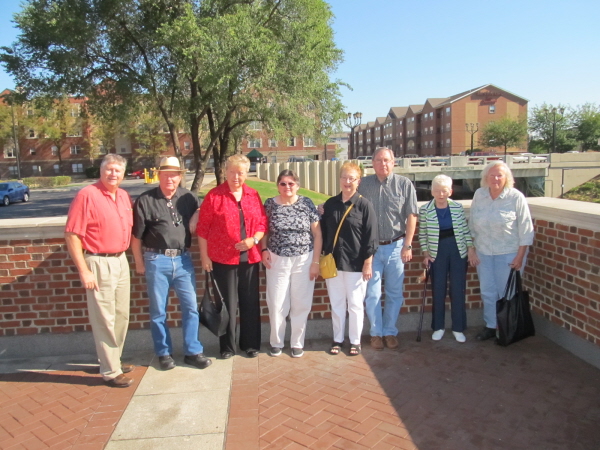 Mike Moore, Carl & Millie Busch, Ilene Harsin, Sue and Charles Dilk, Norma Lou Erwin and Becky visited the Eugene and Marilyn Glick History Center in 2012. In the right picture Ken Knouf and Mike Moore have changed places.
---
In Memorium:
Bill Corning
Louis Munier
Lilian Carmer
Leroy Harsin
Bob Irwin
Bill Sanders
Evelyn Comer
Jean McCllelan
This website is dedicated to all the folks, Native American, Pioneer, and Government Employees, who, through no fault of their own became displaced.
JPG Book Reviews
Home