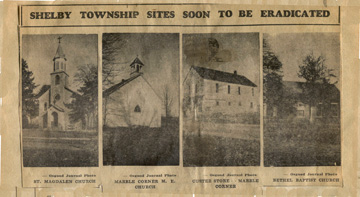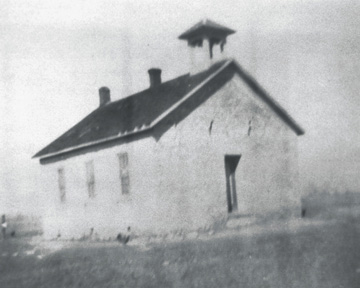 Left: St. Magdalene Church, Marble Corner M. E. Church, Custer Store, and Bethel Baptist Church listed for razing by "Osgood Journal". Right: Oakdale School 1926.
---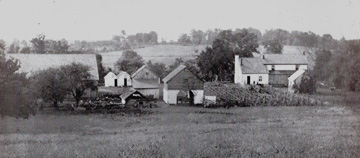 Munier farm on Big Creek, Monroe Township 1911.
---
The Second Removal of Natives from the JPG Lands:
Home
Shawnee
Pioneer
World War II
Korea
Vietnam
Gulf War
JPG Heritage Partnership
The Earliest Settlers
A rare volume entitled "Vawter Family in Indiana owned by the Madison - Jefferson County Library contains an historical record left by one James Burns. He wrote that upon his reaching this stronghold, situated on what was called Harbert's Creek named for a William Harbert who built his cabin there in 1811, people ran out and closed the gates, thinking we were Indians.
Burns went on to say that the blockhouse near Wirt, was a square enclosing about a 1/2 acre. In each of four corners were log houses. Four or five families were living inside the Blockhouse

Wirt Station Blockade

Eventually the Indians left and the settlers located inside the proving ground grew to some 500 pioneer families when they were moved out by the government in 1941.

Farmers were replaced by the Army. The Army was replaced by the animals - "a true circle of life-". Modern day's Harbert's Creek runs through the southern part of Monroe Township flowing from Kruger Lake, now a county park. Harbert's Creek empties into Graham Creek West of Volga. During an interview with Risk bentley at his home near the Madison Railroad Tracks and the JPG fence (Wirt Station), he pointed out that the old ruins of the blockade could be found when he was a boy.

The animals came to Indiana first. The Indians roamed through the woods and were replaced by the farmers. The farmers were replaced by the Army. The Army was replaced by the animals in the "Refuge", "a true circle of life". Harberts Creek runs thru the southern part of Jefferson Proving Ground, flowing from Kruger Lake, now a county park. Harberts Creek empties into Grahmn Creek west of Volga. During an interview with Risk Bentley at his home in 1988 near the Madison Railroad and the JPG fence (Wirt Station), he pointed out that the ruins could still be found.

Northwest Ordinance of 1787

Home